For the tenth time we will light up the streets of Prague. In just a month and a half we will introduce 2 festival routes that will take you through the Centre of Prague, Vinohrady and Vršovice. The third, virtual Signal AR route will present Karlín in a different light this year. 15 breathtaking art installations, a rich accompanying programme and the biggest gallery zone you could experience with Signal Festival so far. Traditional locations, brand new installations and world-class artists. Classic but innovative. That's Signal X.
The 10th edition of the festival will present works by Refik Anadol, Shohei Fujimoto or French studios Collectif Scale and AV Extended. Czech artists will be represented by Maxim Velčovský, Ondřej Zunka or Pavla Beranová and Tereza Bartůňková.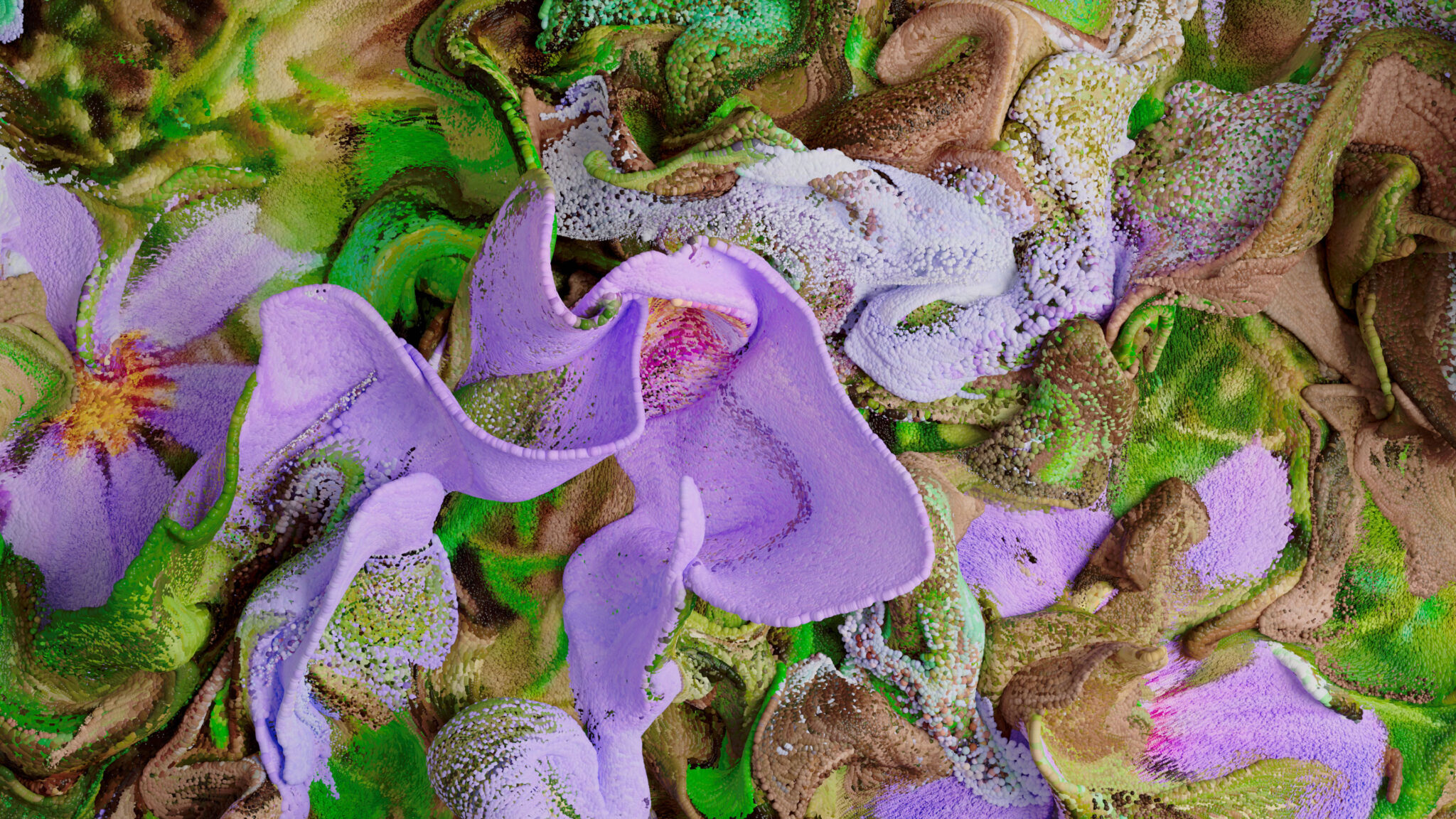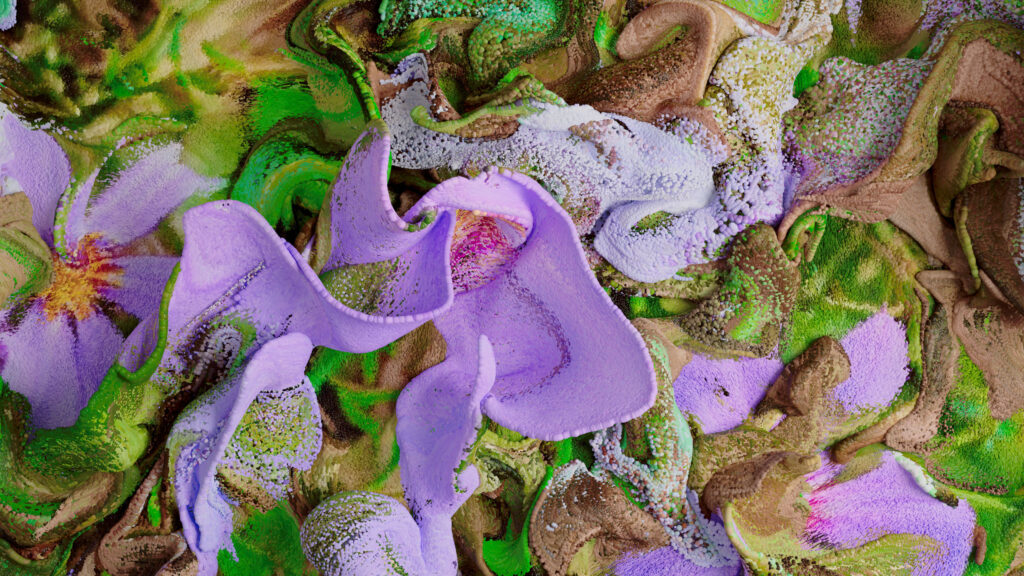 A site-specific work of art born from the depths of urban data
ENJOY SIGNAL WITHOUT QUEUES AND WITH LIMITED CAPACITY
Are you a Signal Festival enthusiast and indulger? Do you want to experience more than others? Don't miss the 6 unique installations we are preparing especially for visitors with Signal Plus or Signal VIP tickets. World-class artists and the largest gallery zone in the history of Signal Festival. Limited capacity and an unforgettable experience. With Signal VIP in privacy, without queues and with a welcome drink. Don't wait too long, only a limited number of tickets are available!
Get Signal Plus for 240 CZK from 1.9., 290 CZK from 21.9. and 340 CZK at the door. Children up to 6 years old and disabled persons are free of charge. VIP ticket can be purchased for 1690 CZK, on the spot for 1990 CZK. The ticket is non-transferable.
DISCOVER CENTER, VINOHRADY AND VRŠOVICE
We want to stay the same but improve at the same time. That's why this year we're introducing an iconic route in the centre of Prague, crossing the traditional Klementinum, Piazzetta of the National Theatre, Kunsthalle Praha and the Center for Architecture and Metropolitan Planning. Mariánské náměstí will be illuminated by Maxim Velčovský's testimony from the war in Ukraine in the form of an artwork composed of burnt-out car wrecks. These are imported directly from the affected areas and will be accompanied by stories of Ukrainian citizens.
An innovation of the 10th edition is the connection of the Vinohrady/Vršovice routes, which will take you to the iconic St. Ludmila's Basilica on Náměstí Míru, which you have longed to return to, and in front of the popular interactive cloud made up of thousands of light bulbs at Vršovice Castle. Along the route, the functionalist St. Wenceslas Church will be illuminated by Hungarian artist László Bordos. Jonáš Garaj and the Tabula Rasa collective will take you to the dwelling of data hunters at the Vršovická kulturní křižovatka Vzlet.
In order to light your way all year round, we have decided to preserve the Karlín route of Signal AR created for the 9th Signal Festival. You can go and explore it now already! Just download the festival app, hit the streets and discover the works in virtual reality through your smartphone.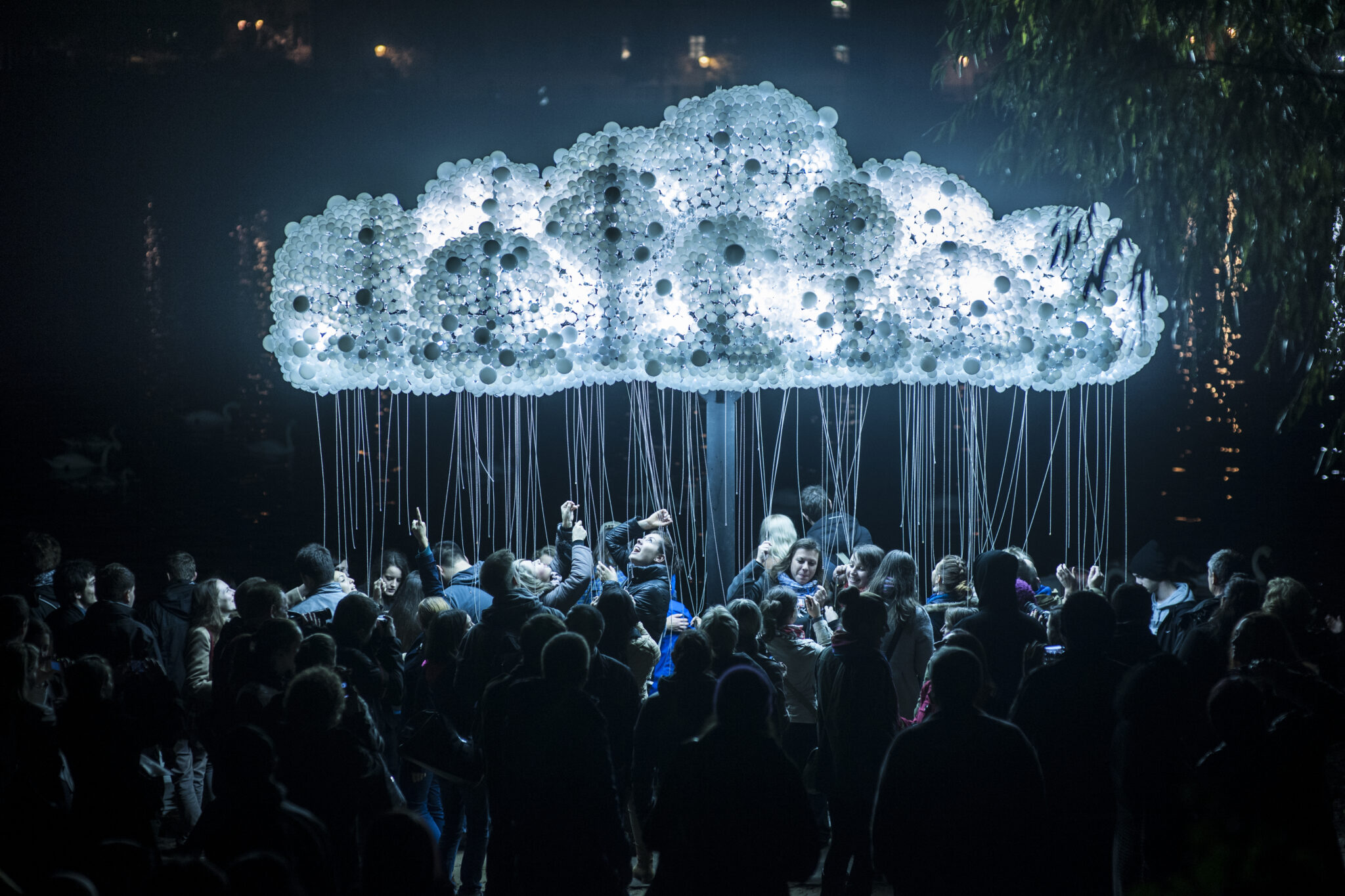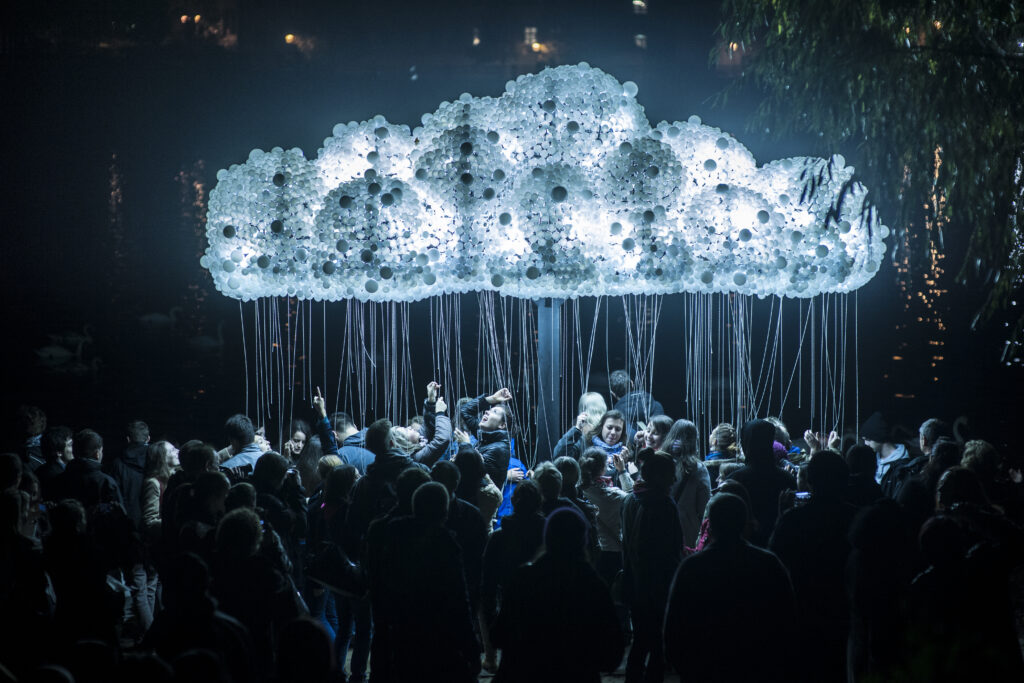 Caitlind Brown & Wayne Garrett, Cloud
NEW COLLABORATIONS AND OFF PROGRAMME
Signal X is even more committed than before to creative and interdisciplinary collaboration and the combination of different artistic genres. We have therefore joined forces with leading Prague cultural institutions and devised a programme that you won't forget. Discover the seemingly invisible forces of nature in the digital works of Ondřej Zunka and other Czech artists at Kunsthalle Praha, a site-specific work of art born from the depths of urban data by Refik Anadol at CAMP, or a theatre performance by the National Theatre ensemble Laterna Magika.
A rich accompanying programme will be provided by the exhibition Duo Neone 2 by Michal Škapa and Michal Cimal at the Bethlehem Chapel Gallery or one of the debates and lectures with leading Czech artists.
WE FEATURE YOUNG TALENTS
We have been supporting promising artists for a long time and that is why this year we introduce you to young talents that you will definitely hear about. We will present the winning installation of the Neon Prize by Julia Dítětová, which was created with the support of Pražská plynárenská, as well as an interactive work by the Faculty of Electrical Engineering of the Czech Technical University, whose students will present their robots reacting to emotions. You will also see the work of Nezmar created by Ondřej Drahokoupil, Vítězslav Plavec and Filip Zeman, the winners of the open call Signal Calling, which we organize every year with the creative workshop PrusaLab.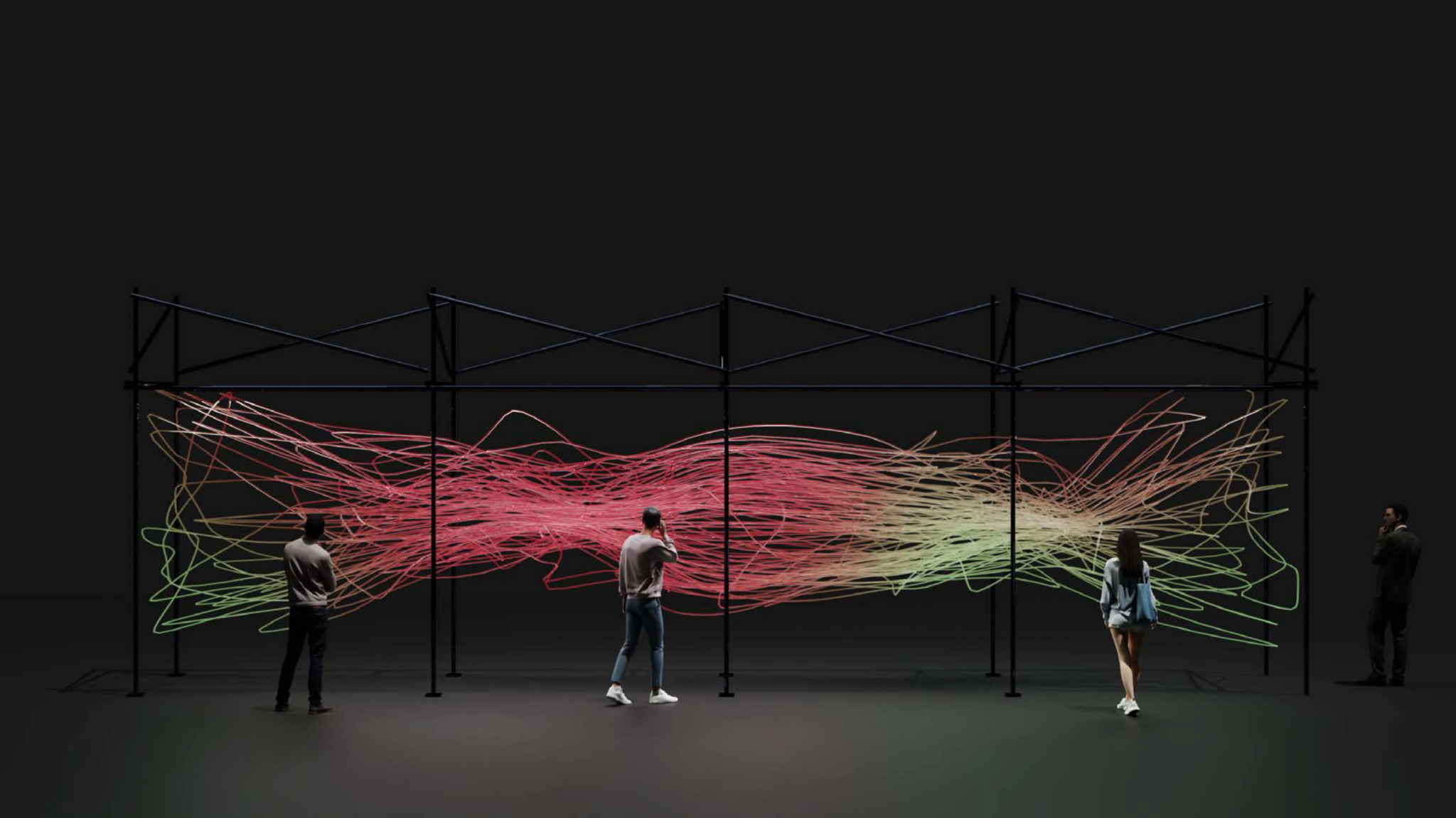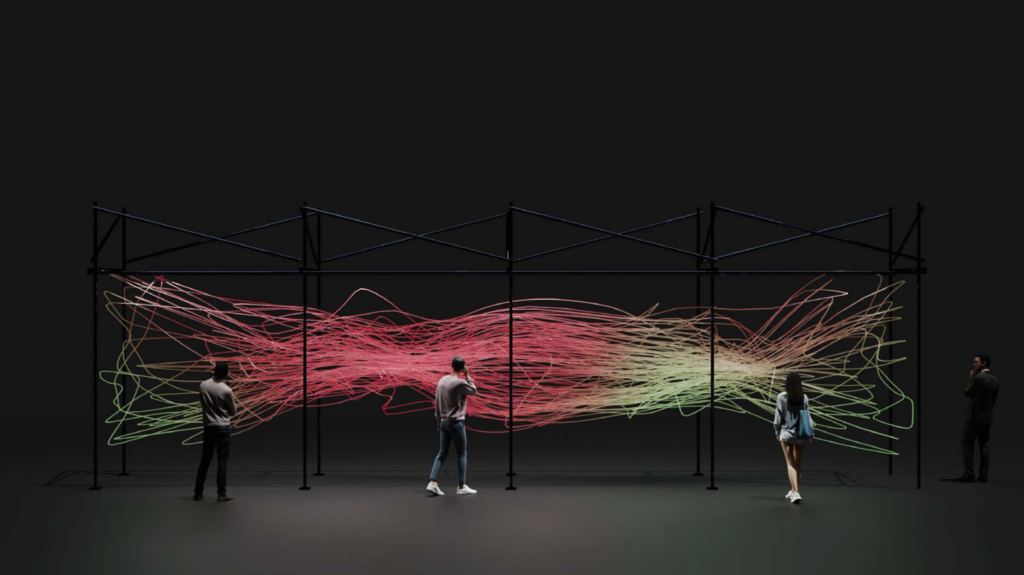 Ondřej Drahokoupil, Vítězslav Plavec & Filip Zeman, Nezmar
Signal Festival will once again present an unprecedented spectacle this year. Take a look at the complete programme and festival map and see for yourself.