This year we have prepared 3 installations for you, which will enliven Prague's public space and Karlín's Hauch Gallery not only over duration of the festival, but also before and after it. See for yourself what they are.
The first installation, which was lit on September 8 as part of the Praha Září festival in front of the Industrial Palace, is The Machine by Markéta Jáchimová. This young Czech artist, working on the Swiss and Czech scene, studied contemporary sculpture and painting at the Academy of Arts, Architecture and Design in Prague and Fine Art and Media at the University of Zurich. You may know her controversial politically and ecologically oriented ice sculpture of ex-president Václav Klaus from 2010. Her object called The Machine embodies the contrast between urban and natural landscapes, between humans and machines that can easily turn into an instrument of bad behavior and between a peaceful tree, global challenges and a growing economy. It points to human greed, which causes excessive logging and deforestation of the landscape.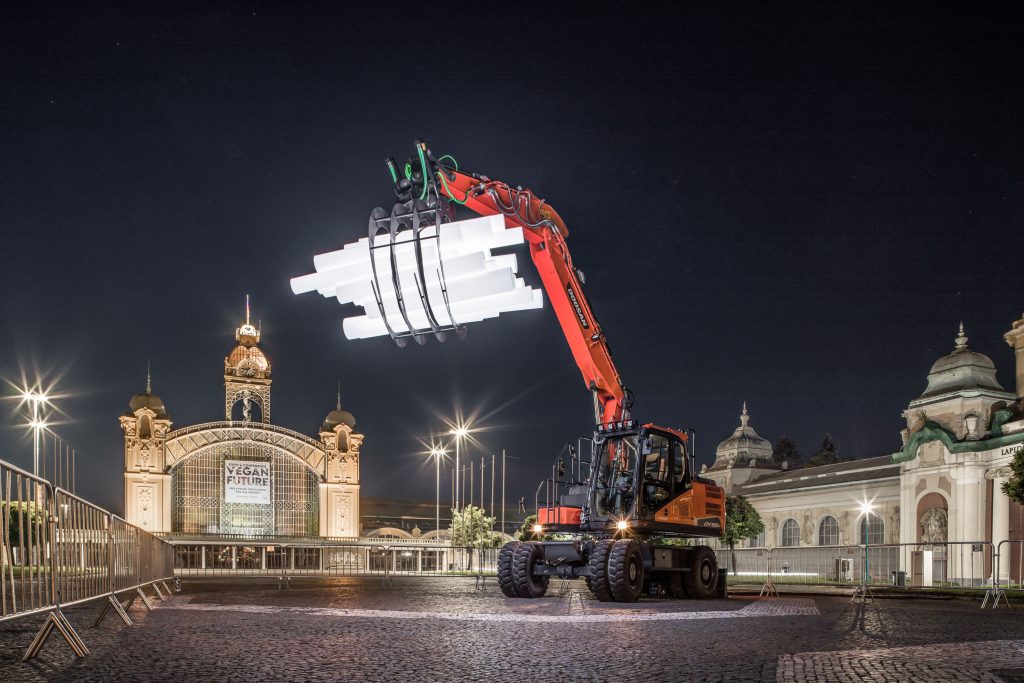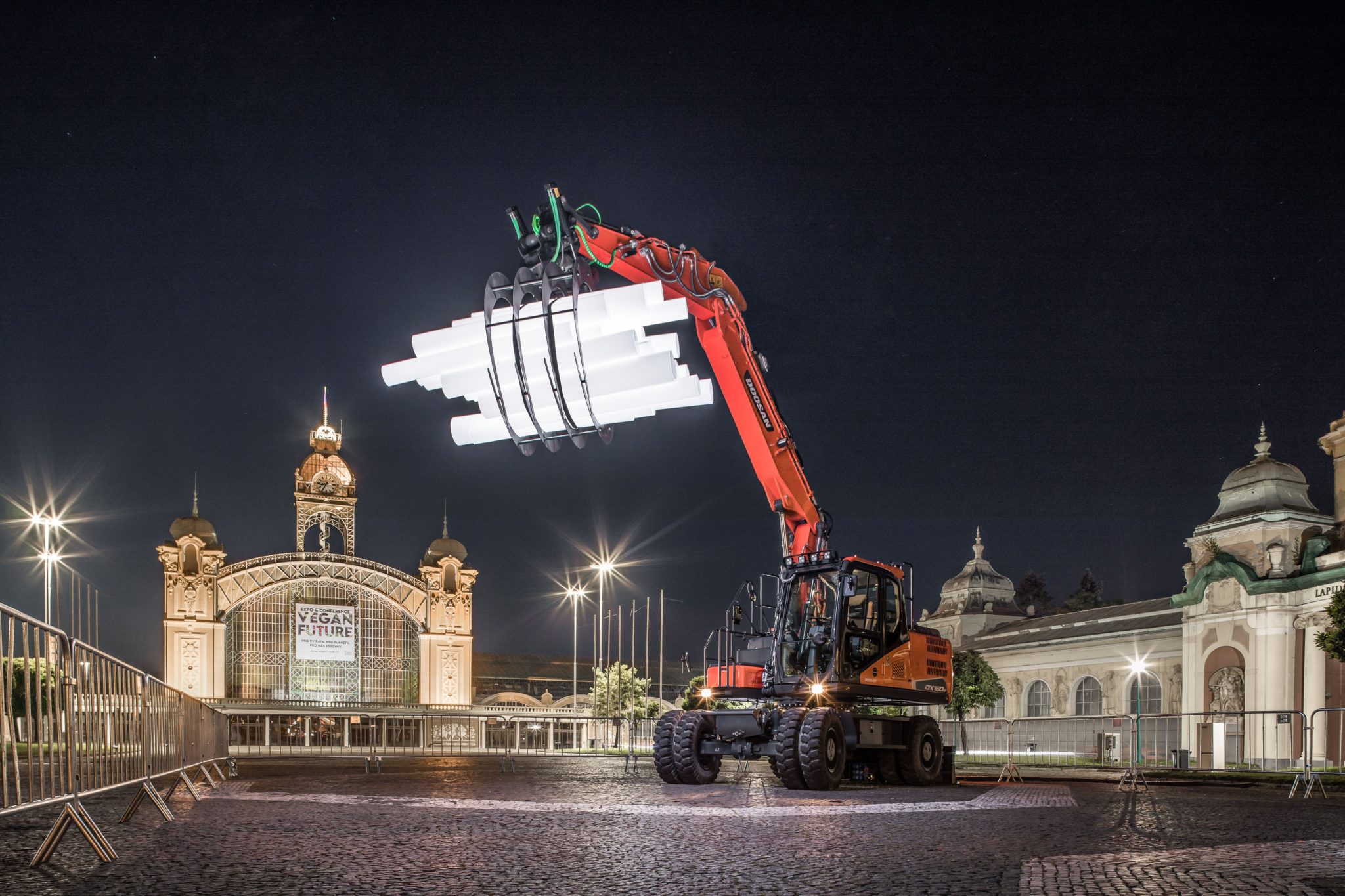 The Prague Market is celebrating 125 years since its founding, and on this occasion, our Signal Productions studio has prepared a time countdown, conceived as a binary light code on the water tower in the market. The whole project culminated on Saturday, September 12, with the unveiling of a large neon installation Lightcarrier by Michal Škapa. The inspiration for the artist, who is one of the most prominent authors in the Czech graffiti scene, were the statues of a bull and a man at the entrance to the market. It is animated and changeable by the gradual switching on and off of its lights. The bull symbolizes strength and unrestrained passion. The human figure represents a torchbearer who you can easily follow to unexplored parts and boldly step out into the unknown future – just like the Prague Market, which is also currently embarking on a new journey. Neon will remain in place for a long time – at least for 1 year.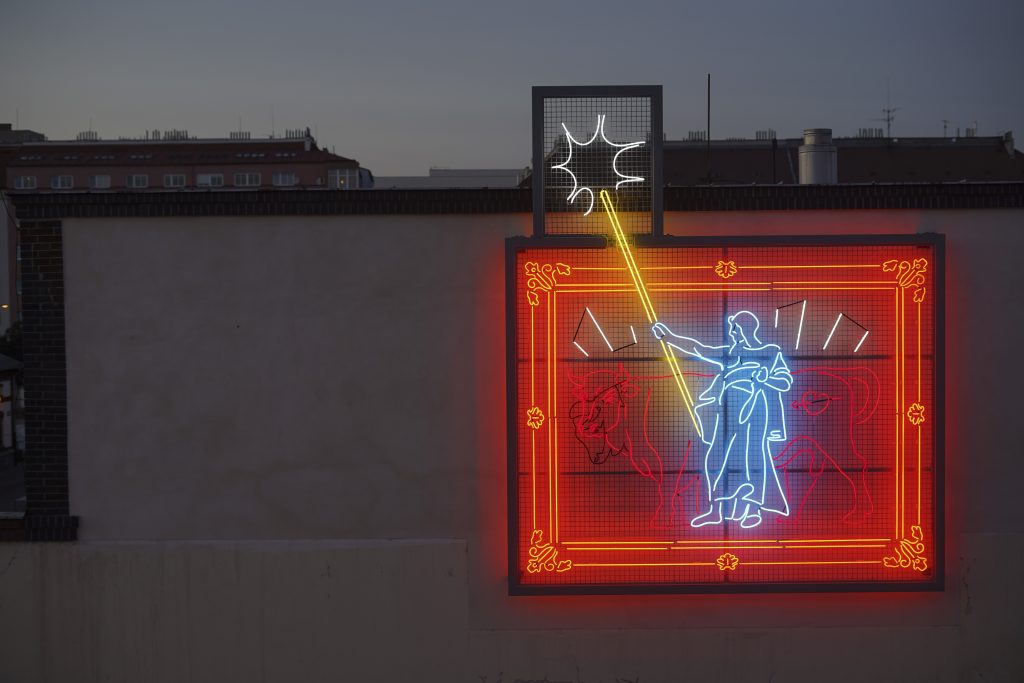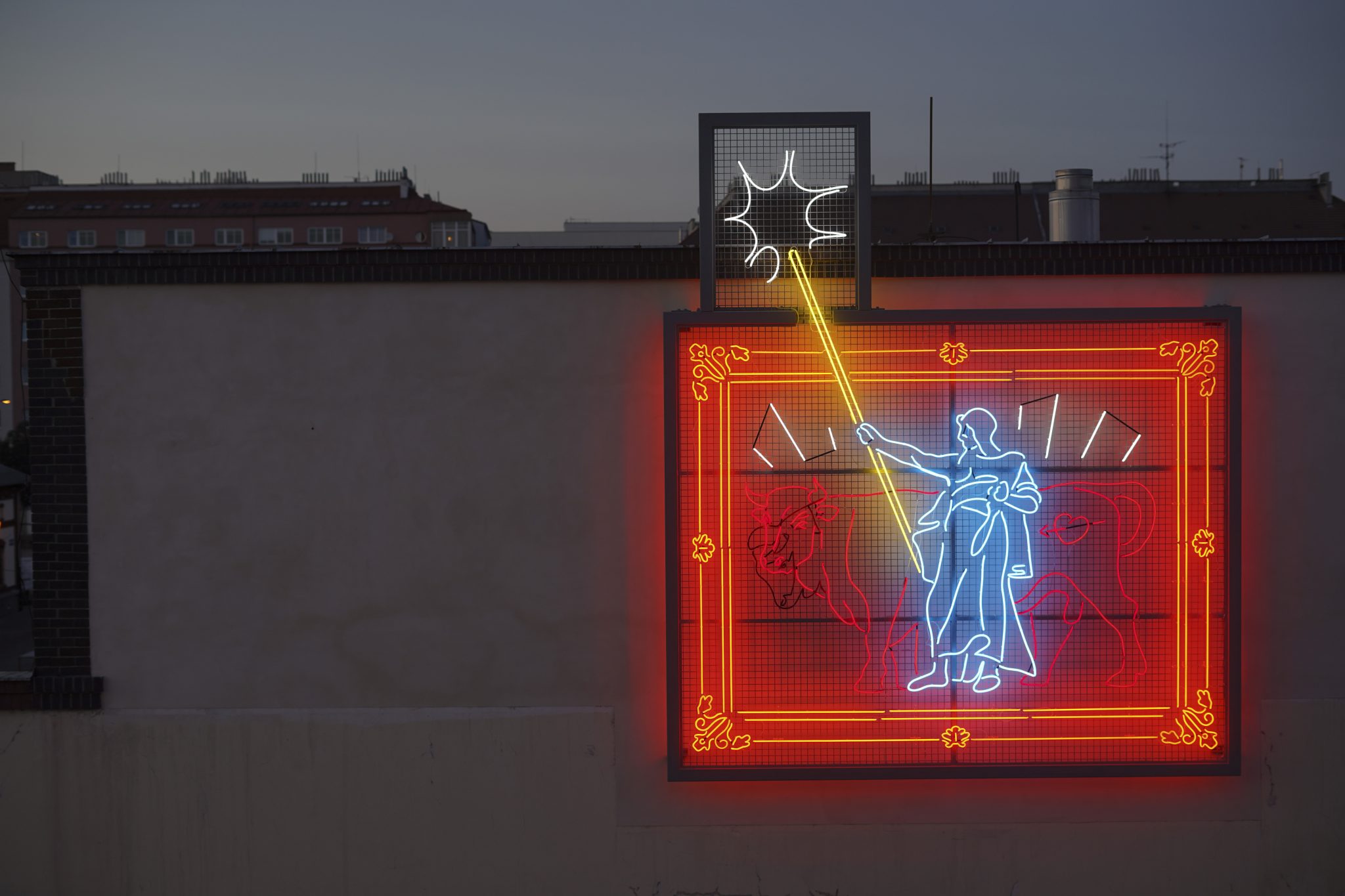 These two works can be already seen now – in evenings – so check them out!
This year's novelty is an interactive digital exhibition focusing (not only) on the young spectator, which will begin on the first day of the festival and will continue until October 31. The installation BIOSY by the Slovak new-media artist Boris Vitázek will transform Karlín's Hauch Gallery into one living, playful and instructive digital ecosystem. The combination of game design, data visualization and the interaction of festival visitors will create a dynamic metaphor of the natural ecosystem. You will be able to follow the inception and demise of life and the way you can affect the health of nature. The exhibition, which is part of our Signal Playground project, will be accompanied on every weekday by creative workshops for schools realized in cooperation with the Maker Fair and Máš umělecké střevo? projects.