Олександр Ковальчик
OLEKSANDR KOVALCHYK
I have an old house. So when the shelling started, together with my daughter and grandson I moved to a friend's house. His house was stronger and safer, and further from the Irpin center, where we lived. We are workers of the critical municipal infrastructure, so we couldn't leave earlier, and then it was too late. Russians were shooting civilian cars. I had no right to risk my family and relatives. We thought we would sit in hiding and wait for a couple of days and this chaos would end. But we were wrong. We were hiding in the basement since February 28. On March 3, Russians started shooting from Grad not far from us. When the opportunity appeared, on March 5 at 8:30 a.m., I sent my daughter and grandson to safety, thanks to the parishioners of our church. At 10:50 a.m., a Russian tank was already standing in front of our backyard. There were four of us left. There were frequent shellings. When the tank is close to us, it's quiet, then they get hit, move away further and then start firing mines in response… We saw dead bodies of civilians on the streets. On Pushkinska street we saw shot and crashed down civilian cars. It was scary. On March 7, we got a chance to get out. We found a cell phone connection and connected to the local TRO (territorial defense unit) and they told us a safe way to evacuate. We said our goodbyes and left. We heard shelling and machine gun shots near us. We walked to Romanivka village to cross the bridge.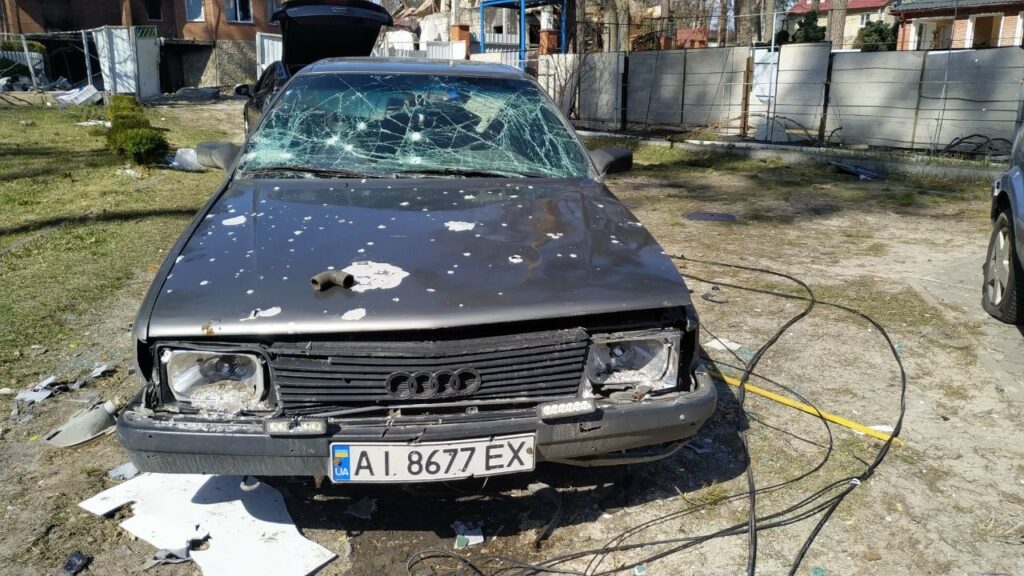 I left the car filled with gas. Russians tried to steal the car but they didn't succeed.
I have problems with my feet, so the car used to be my great helper… Not anymore. Now I have switched to a bicycle. Every year I go by car to Kuyalnik resort for treatment, it's in the Odessa region – not this year, the Russian orcs ruined it all. It's sad we had to go through all of this, but thank God we are alive.
I also have a video which was shot the next day after the Russians left – it shows the house and the garage where we were hiding, and all the destroyed cars in the yard.
PS the cats survived, thanks to the local volunteers.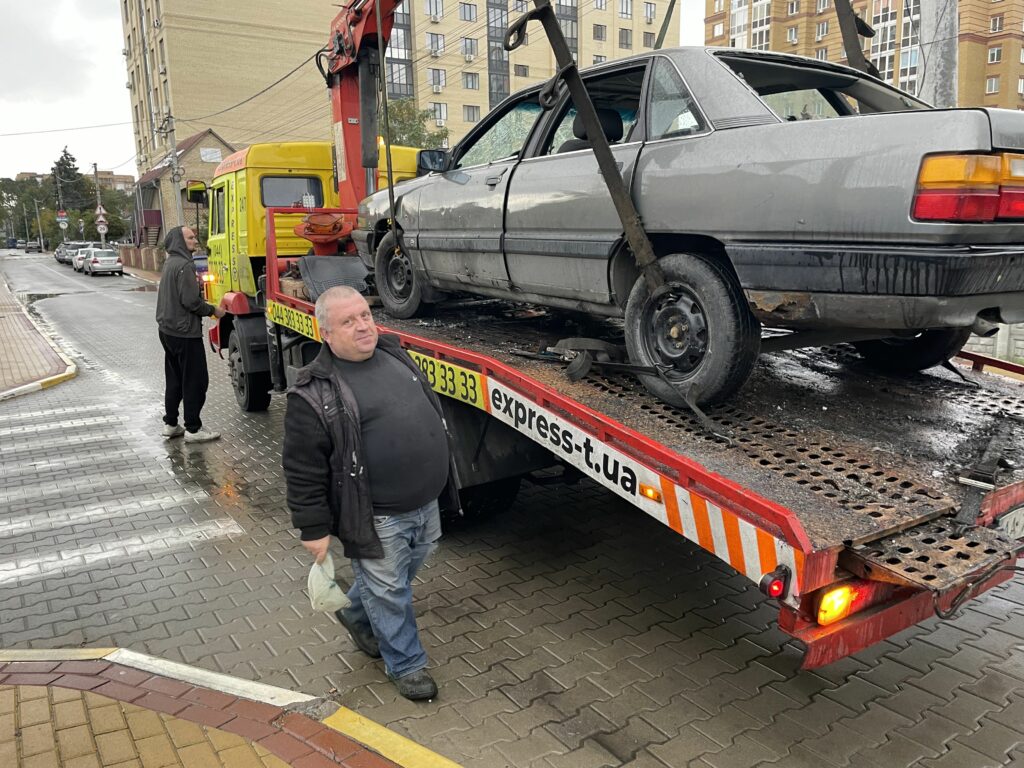 Тетяна
TETYANA
In the morning, around 4:45 a.m., I woke up from a call from my mother, who informed me in an alarming voice that the war had started, and I could hear the large-scale roar of enemy planes. She asked to collect all the necessary belongings and be sure to take all the documents. We agreed that the whole family would gather at my sister's house. There was a huge traffic jam, it was very scary to drive alone (usually I really liked to drive my car alone, as I actually relaxed behind the wheel and felt happy). Until late evening, my family and I were in panic, all at my sister's house, we heard enemy planes flying almost over the very roof, I will never forget this sound… I will never forget this feeling of fear when you close your eyes and ears from the buzzing… Suddenly, an acquaintance from the military called and told us to leave the city immediately. Without taking any belongings, we got into one car, which was fully fuelled and on diesel, and drove without knowing where we were going. I decided to leave my car, the Mini, which only had half a tank of gas in it, in the parking lot near the neighbors' house, because I didn't know if I would be able to refuel somewhere, as there were too many people leaving the city and it was better to leave the car near the house than to get stuck with no fuel somewhere along the road.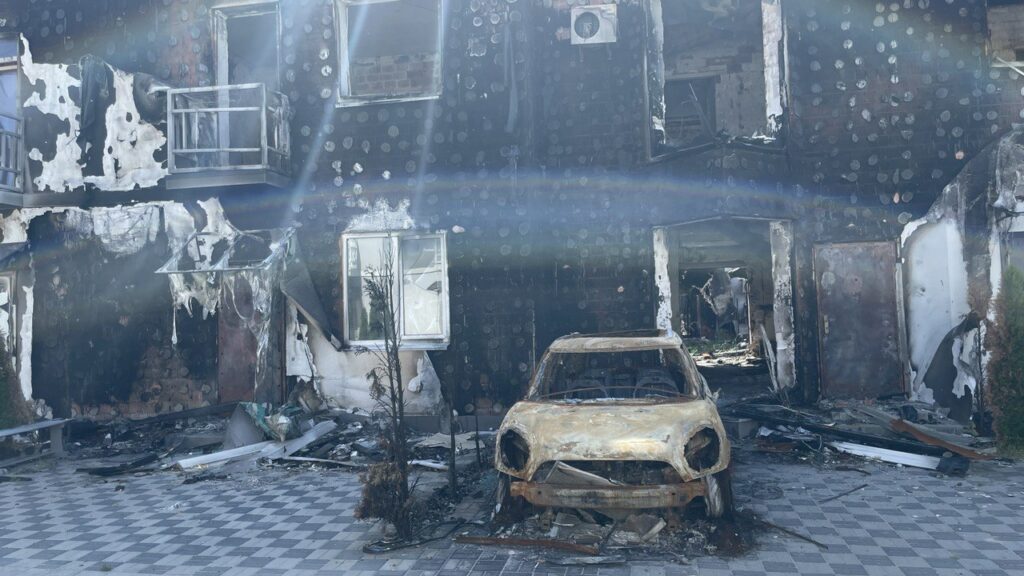 When I was parking near the neighboring house, a thought suddenly hit me: Maybe I'm parking it for the last time? But then I immediately thought that I just really love my car and am afraid of losing it, that's why such sad thoughts appear in my head.
I stayed in the Eastern part of the country with my family for about two months. When I found out that my car was completely burnt, of course I was saddened, but there were no tears in my eyes, because I was mostly worried about the people who remained in my city. But later, when my family and I returned home and I saw my beloved, modern, very cool Mini car – or, more precisely, the burnt remnants of it – I cried because it was my first car that was a gift from my parents, which I could not even dream about. I loved her so much, sometimes I couldn't believe that I was driving such a cool car. I thought I had the best car in the world! My first car – Mini, which I still love and will always love, will always remain in my heart! Every time I see a Mini Cooper on the road, I smile and think: They are so cool! My soul still hurts from the loss of my beloved first car, but I thank God that in this terrible war I only lost material things, and all my relatives and friends are safe and with me!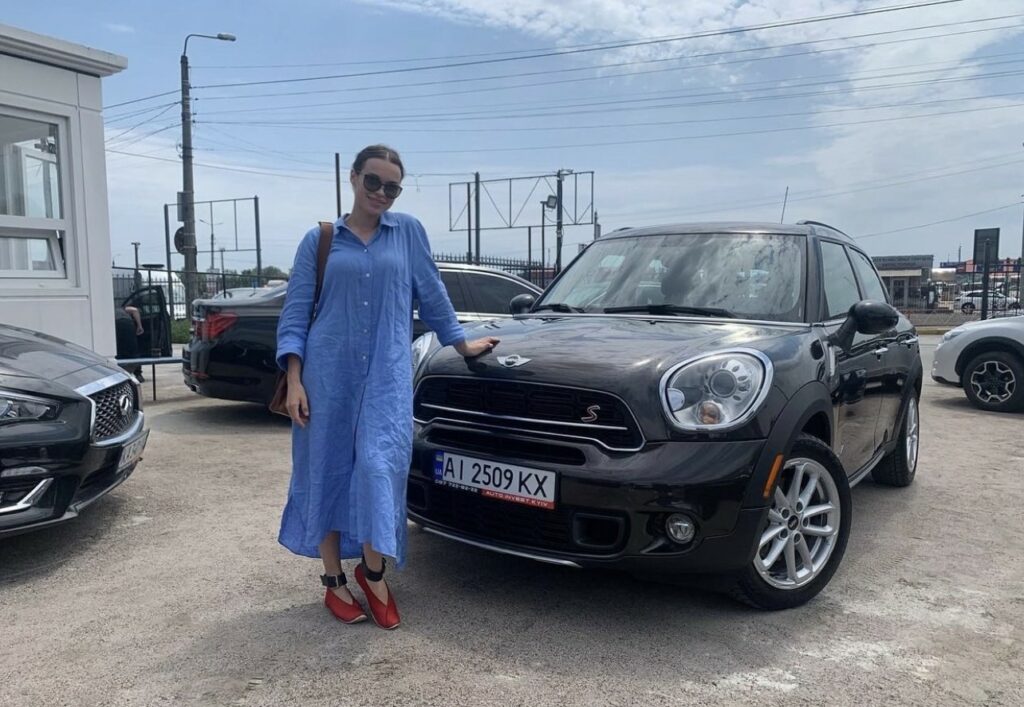 All that's left of my beloved car are the keys, which I'll keep forever! Because my Mini is my love!
Олексій Кабанець
OLEKSIY KABANETS
Before the war, I lived with my wife at the address: Irpin town, 22z Kyivska Str. My parents, brother and grandmother lived in Hostomel village, next to the airport, where the fiercest battles took place. On February 24 the parents came to Irpin by car (GAZ 31105, 2008, almost a collector's car, as it was one of the last ones produced of its series), the car was full of their belongings. At that time, my wife together with a small group of neighbours and construction workers were hiding from shelling in the basement of a newly built kindergarten, next to the residential complex in which we lived. The car packed with our belongings was parked next to the house, while me and my whole family during all this time, all 10 days, sat in the basement, going out only once, to the pharmacy, because everyone got sick, and once to the store to buy some bread (it was the first time in my life that I had to stand in queue for bread for 4 hours).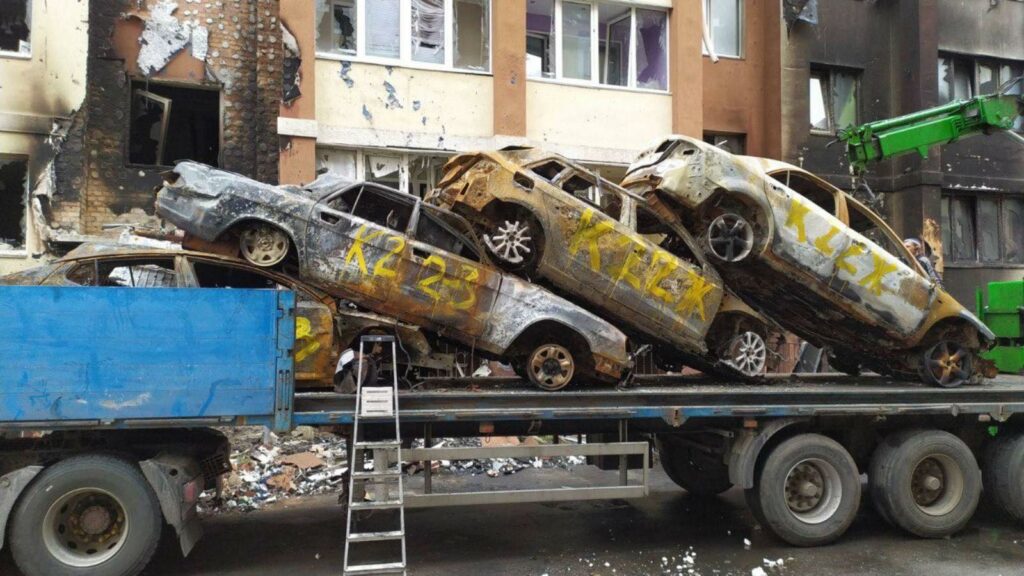 On March 4, battles with the Russians were already taking place at all entrances to Irpin, shellings reached their peak and intensity. I tried to put my wife, mother and grandmother on the evacuation train, but we got under mortar fire right there, at the Irpin railway station. We never got to the train, but we all miraculously survived. On March 5, the Russians broke through to Irpin, and that is why we decided to escape by crossing the Romaniv bridge. Unfortunately, the car ran out of gas, we simply wouldn't have made it, so we decided to leave the car and walk to the bridge. When we left the territory of the residential complex, the car was still intact. On the way, the Ukrainian military picked us up and took us to the crossing in Romanivka, then, after 2 hours of crossing by foot, we boarded the evacuation buses. Already in the evening, I learned from the neighbours that after we left, there was heavy shelling, there was a lot of destruction, in particular, our house and the neighbouring one were also hit, from which the burning roof fell on our car, which also caught fire and was destroyed. The inscription on the body of the car "K22z" stands for "Kyivska street, building 22z", and was made by our neighbours for the further identification of the car. I am also attaching some pictures of the car before the war.
Анна Денисова
ANNA DENISOVA
Life in colours and a ruined world of lost dreams.
My name is Denisova Anna Oleksandrivna. I have always been a fantasist and a dreamer, I wanted to become a famous writer. I have been writing poems about love since childhood. And my optimism was boundless.
Every person has a dream – from the hope of achieving something to the desire to create something and turn it into reality. I think I was always the one with rather ordinary dreams. My dream was for my family members to be well, for harmony and understanding in everything.
My whole life I wanted to make things better, kinder and more positive.
I was born in Kyiv, and moved to Irpin 8 years ago. The concepts of family and parents were always key for me. I studied and worked all my life, I have two higher educations.
My husband and I bought our car in 2018. We waited for it for a long time, then did a complete repair of the car, and spent all the funds accumulated over the course of a lifetime on it. While some people could allow themselves vacations and relaxation, for me it was important to earn money and achieve something even if it meant refusing myself a vacation. To achieve something, you need to make an effort – at least this was my life's motto.
I really wanted to become a driver, but I never thought I would love it as much, until I actually mastered it. And then it was just me and the road, I felt myself being one whole with my car, and the feeling of happiness when I was driving was overwhelming.
When we moved to Irpin, we bought a garage, which we filled with my husband's tools – everything was in its own place. We saved more money and improved and strengthened the garage, made it more cozy. Then, with time, we built a second garage, completely "from scratch", equipped with everything nicely in it so that the car could be safely located in its own separate "car house".
And then another reality hit…
The days before departure were very difficult. On March 5, we were traveling from Irpin to another part of Ukraine. I immediately decided I will not leave Ukraine. The road was very difficult, I had such a heavy feeling inside that we should have taken the car with us, but it was not possible. A shiny silver-colored car, a Jeep, a pretty one, the Russians can deliberately hit it on the road, aim at it, and shoot whoever would be inside it. Especially since such situations both that day and the day before were a very frequent case. But I didn't want to leave anything! Everything that was achieved during our life, the house, the garages… It was so difficult to leave all our life behind!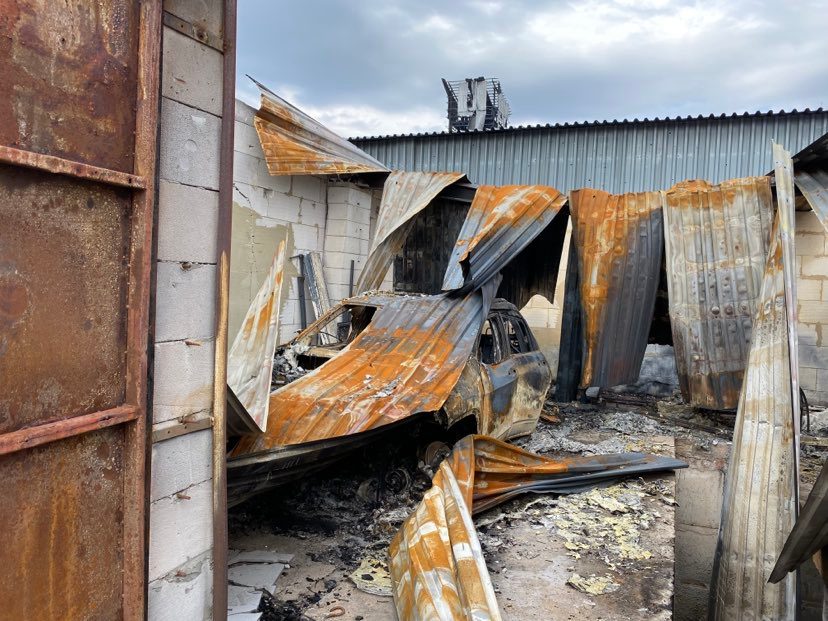 But the hope inside was that everything would be good – if you radiate good and kindness all your life, then there should be good in return, right? Well, that's not how it works in real life…
We returned to Irpin in the middle of April. At first we saw the house with no utilities except for electricity. No heat, no water or gas. They warned it was too early for women to return, because it is more difficult for them to survive without "facilities". But I really wanted to go home. It was hard to look at the broken windows, at the fact that the rain was flooding the laminate, now it needs repair, at the fact that metal debris from the shelling were stuck in the walls…. Everything was not as it was supposed to be. Everything was destroyed and degraded. The war is tough…
We learnt that around March 6, due to one direct hit the first garage burnt down, together with the tools and everything we've built for years. And then a second direct hit destroyed and burnt down the garage with the car. We are still discovering some items which are missing and which were burnt down in the garage.
When we returned and approached the gate, I hoped that everything would be fine there. But those holes everywhere hinted that everything was far from fine. And also light: why is there light through the closed gate? Why is it there????
We opened the gate as best we could, for it was also burnt, besides being shot through. Light… For some reason there were no walls and no roof. How can this be? Why is there ash everywhere?? Why is everything rusty?
All these questions were tearing my heart and my mind. You see it, but you don't understand how it could happen. But it was only the first garage with all the tools and stuff.
And after that, with full confidence that it couldn't be worse, we approached the door of the second garage. And again, this light pierced through the holes. At that moment I stopped liking the light. Before the door opened, I saw a mutilated, burned-out car through the hole in the door. And again there are ashes, and again there is no ceiling and walls. How could it be?? Error? Joke? Impossible!!!!!
To say that I started to cry? No. I roared, yelled, screamed… At that moment, I simply passed out. I completely abandoned my feelings and my being. Everything you achieved was destroyed and debased. I still haven't recovered from this completely, I'm just existing somehow.
Memory exists, but reality is empty.
Many people said a banal phrase: "Everything can be restored, earned again etc, the main thing is that you are alive." It breaks my heart to hear such 'kind' words. I know these people mean well, but they have no idea how it feels to spend so many resources through your life to achieve this and now have it all destroyed.
Some people have the ability and money to restore anything, and that is why they will not understand your pain, and will only give advice after blurting out something like "everything will be fine". And they will never understand that I will not be able to afford such a car again. It was a fairly new, albeit refurbished 2015 Jeep Cherokee KL, and it was a dream in which money was invested which cannot be returned. And that the tools that burnt down were my husband's means to earn money.
A lifetime of hoping, working, building, and then losing it all in one moment.
It's tough when there is a war in your country, and you dream of waking up and saying "What a fucking terrible dream I just had. Thank God it was just a dream, and everything is fine in our world. There is no war. Everyone is alive, nothing is destroyed. Ukraine lives its peaceful life. I'm fine. I live and dream that everything will be fine both for me and for everyone else! Good morning and let the sky be peaceful!"